FIRST A LITTLE BIT

ABOUT AGRONOMIC IQ
Agronomic IQ is focused 100% on meeting the demands of large-scale commercial growers. Our all-in-one approach to grow room environment control has taken the industry by storm because we solve complex commercial grow room challenges better than anyone else. Our incredibly precise room control, builti-in redundancy, energy efficiency, reliability and system scalability have won over many of the largest most successful multi-state operators in the industry. Why? Results speak for themselves. Our clients consistently exceed yield expectations by 30% to 50%.
Our parent company, Madison Industries, one of the largest privately held companies in the world, acquired Dehumidified Air Solutions, North America's largest and most advanced manufacturer of commercial dehumidifiers.
Leveraging their 40 years of dehumidification expertise, we set out to design the ultimate HVAC solution for growers, from the ground up.
THE RESULT:

OUR AGRONOMIC IQ SERIES
A single piece of equipment that provides total environment control with unprecedented precision and reliability to deliver outstanding yields and exceptional ROI.
What follows are just 10 reasons why we solve grow room HVAC challenges better than any other competitor or system type. Once you get to know us and our equipment, you will discover many more.
INTEGRATED UNITARY SYSTEM DESIGN
WITH DEHUMIDIFICATION PRIORITY
Many systems sold to growers today lack dehumidification capacity and therefore cannot consistently or adequately control critical humidity levels.
Our unitary system with dehumidification priority is designed to handle humidity first and foremost. Cooling and precise temperature control is easily accomplished after that.
Our systems dynamically deliver dehumidification, cooling, or heating depending on room requirements with the exceptional efficiency that only a unitary system can provide.
The result: A cost-effective, scalable system that delivers precise, dynamic room control and energy savings, along with exceptional redundancy and reliability.
REASON #1: Unitary System Design with Dehumidification Priority
Runtime: 1:08 min.
Other manufacturers use refrigerant-based outdoor condensers, which are not only expensive to operate and maintain, but highly inefficient, bad for the environment, and prone to service issues.
Our proprietary, custom-designed dry coolers use a water-glycol fluid mix to reject heat outdoors, thereby reducing expensive refrigerant usage by more than 85%. This usage is reduced by as much as 90% in our revolutionary Compressor Wall Technology, a truly eco-friendly solution.
Dry Cooler Technology also virtually eliminates the risk of plant-killing refrigerant leaks and provides superior reliability.
With just PVC piping to connect, it's easier and less expensive to install. Plus, there are no line length limitations.
Virtually maintenance-free, our dry coolers have redundant pumps on every module for added reliability and can be grouped into multiple modules for space savings and additional stages of redundancy.
Impervious to the risks of low ambient temperature, this technology comes loaded with sensors that enhance performance integration with our dehumidifier control systems.
An HVAC unit failure could cost your entire crop. That's why
redundancy, back-up, and failover systems are not an option. They are essential.

The AGronomic IQ Series has multiple levels of built-in
redundancy with no single point of failure.

Our patented Compressor Wall Technology has between 4
and 16 separate, independent refrigeration circuits, along with multiple redundant fans to provide fail-safe performance.

We provide the smartest and most integrated redundancy of
any manufacturer in this industry.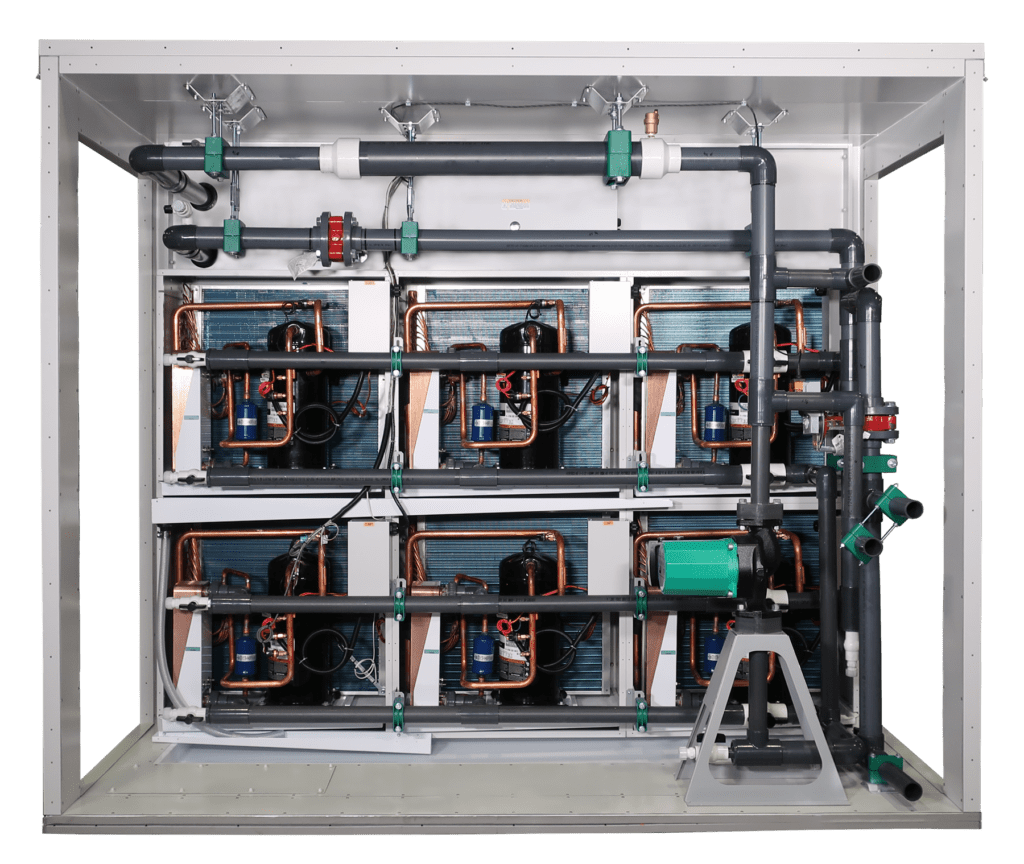 COMPRESSOR
WALL TECHNOLOGY
We invented this revolutionary technology specifically for grow rooms. It checks every box to deliver the ultimate solution: performance, reliability, eco-friendliness, and energy efficiency.
Compressor Wall Technology combines multiple small refrigeration circuit modules, each with a minuscule amount of refrigerant charge, to significantly reduce refrigerant-related risks and create up to 16 levels of redundancy in a single unit.
Along with a host of impressive features and benefits, CWT is not only exceptionally reliable but also very simple and inexpensive to service with its plug and play recyclable modules.
CWT offers up to 32 stages of variable compressor capacity throughout every stage of growth. This flexibility results in commensurate energy savings and reduced equipment wear and tear, particularly in early stages of growth.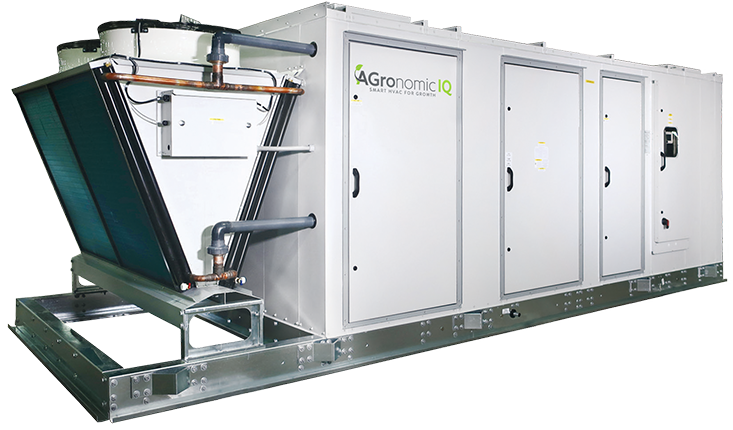 With the largest factory-direct service network in the industry, Agronomic IQ's industry-leading service and support are unique, and invaluable.
With Agronomic IQ, you won't be saddled with inexperienced third-party contractors who don't know your industry, your technical requirements, or the nuances of the equipment they install.
Instead, we include factory start-up with every unit we sell. You also receive a full 90 days of system fine-tuning to dial in the precise conditions you desire, supported by both on-site factory-employed technicians, as well as remote monitoring with telephone support.
We also offer extended service and preventative maintenance programs, along with the best standard and extended coverage warranties in the business.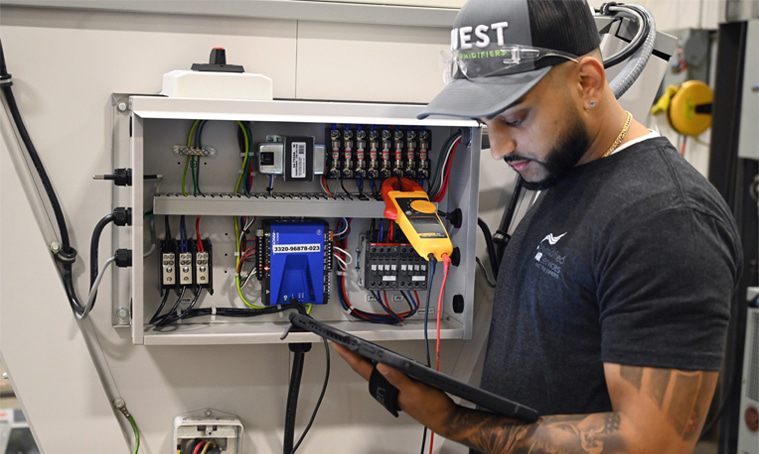 Other manufacturers typically default to single-stage compressors that are either on or off.
This on-off, short-cycling causes unstable room conditions that constantly increase or decrease in temperature and relative humidity with each on-off cycle. Not only that, short-cycling also creates excessive compressor wear and tear that results in a shorter life expectancy and reduced reliability.
As standard, we use variable-capacity scroll compressors that dynamically adjust to match load requirements more precisely, resulting in less energy consumption and a greater equipment life expectancy.
Imagine remote, real-time Internet monitoring and control of over 100 system parameters, and technology that delivers automated trouble alerts to help protect against serious issues before they arise.
Now imagine the same factory technicians, service teams, and engineers who designed and built the equipment being able to monitor, trouble-shoot, and fine tune the performance to your specifications — all without leaving their offices. That's real peace of mind.
Add to that, the ability to review 18 months of historical performance data with virtually minute-by-minute room conditions logged on our servers. What better way to know what's going on in your rooms in real time, and looking back over multiple growing cycles, the exact conditions your HVAC equipment provided.
Nobody else offers this level of technology and support for grow rooms. The best part? It's free from AGronomic IQ for the lifetime of your equipment. All that's required is an Internet connection.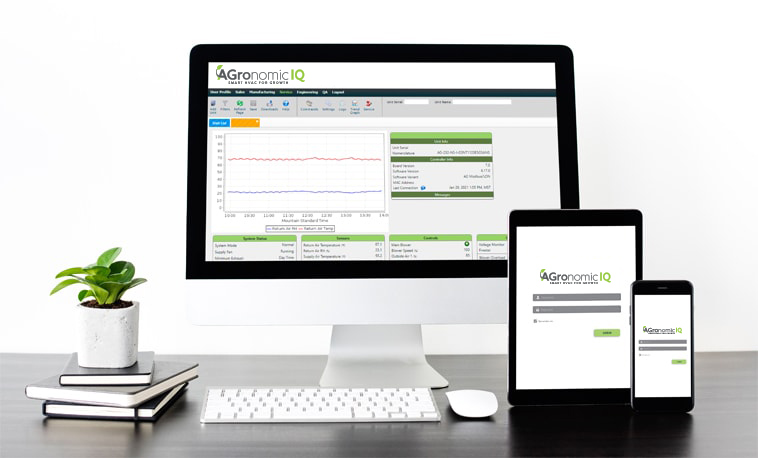 Every grower wants precise, consistent room control without unwanted fluctuations of temperature or humidity. Our proprietary control systems do exactly that.
AGronomic IQ control systems provide the ultimate in modulated heating and cooling (instead of on-off) to deliver the most stable room conditions possible.
Other systems use a binary on-off heating cooling system that continuously overheats then overcools the room with correlating variations in relative humidity. This is definitely not what you want.
The added benefit of precise modulating control in a unitary system is lower operating costs and reduced wear and tear on compressors, making the system more energy efficient and longer lasting.
Equipment serviceability and critical component protection is a big deal. That's why we go above and beyond our competitors to protect your investment.
In most of our designs, all major refrigeration and electronic components, including compressors, are kept in a separate vestibule outside of the treated airstream. This ensures longevity by protecting equipment from hot, humid air while maximizing performance efficiency.
Even better, our design allows maintenance and service work to be completed accurately and quickly without interrupting airflow. There is no need to stop and restart the system multiple times while making critical system adjustments.
The result is less time servicing equipment, more accurate service readings, and less risk of contamination.
With real-world experience in the cannabis industry since 2006, we've learned a thing or two about HVAC design. Our real-world experience is particularly important since there are still no established industry standards for grow room engineering, which is a very complex matter.
Our AGronomic IQ experts play an active role on the committees that are just now beginning to establish industry standards for ASABE and ASHRAE. We're proud to participate in helping to ensure standards that will guide grower success.
Our team is here to help throughout every phase of your project, so you and your team can rest assured you've covered all your bases and dialed in the right parameters and equipment selection to get the job done right — the first time.
We have our own formulas and proven science for success. We verify everything to ensure that your rooms have exactly the right load calculations, air changes, monitoring technologies, and airflow design.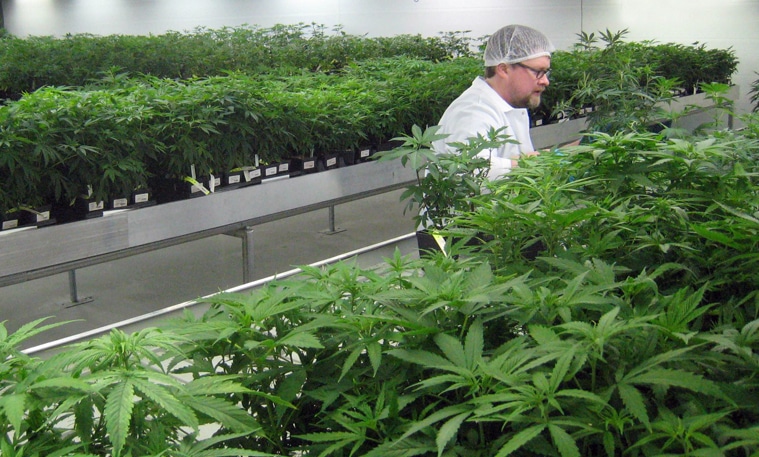 So there you have it.
The AGronomic IQ Series delivers outstanding performance, reliability, and value for every size of grow room.
There is no better technology available to ensure precise conditions for growing cannabis and improving both its quality and its yield.
In addition to all of this, we offer the lowest possible operating costs and the longest equipment life expectancy, supported by the largest factory-direct service organization of its kind.
You can see why we're confident in saying that…
Smart commercial growers are choosing the AGronomic IQ Series.