1. Agronomic IQ & Quest
Sister Companies Joining Forces Under a Single Brand

Bringing together the combined strengths and experience of the 2 most respected brands in the grow room industry, Agronomic IQ and Quest are now owned by the same company.
Starting in 2020, in order to provide easier access to our combined product lines and to expand upon best service and support in the industry, all AgronomicIQ products will be sold under the Quest name.
This combination of brand strengths creates a true HVAC powerhouse to serve growers of every size by providing the right solution to every heating, cooling and dehumidification requirement. Stay tuned for more exciting announcements about how this new Quest HVAC powerhouse will be adding more products, services and capabilities to serve your needs.
2. Getting Grow Rooms Right
Everything to need to know when it comes to HVAC Design, Specification, Selection, Installation and Operation.
It's available in both PDF and e-reader version.
A must-read for every one in the grow room industry!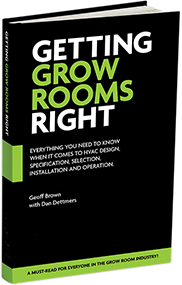 3. Introducing Compressor Wall Technology
for Grow Rooms
6 individual compressor modules for built-in redundancy
2 stage compressors delivering 12 levels of scalable performance
50% the size and weight of traditional capacity equipment
Less than 10% of traditional refrigerant charge
Check Out Our Products and Competitive Advantages
Want to learn more about our product lines? Download our full line brochure.
Not only will you find product information on our Patent Pending Compressor Wall Technology, but also our other HVAC solutions from Agronomic IQ that deliver outstanding performance reliability and value for every size of grow facility.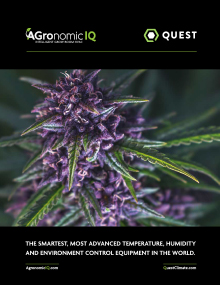 More Resources
Other HVAC Resources at your Fingertips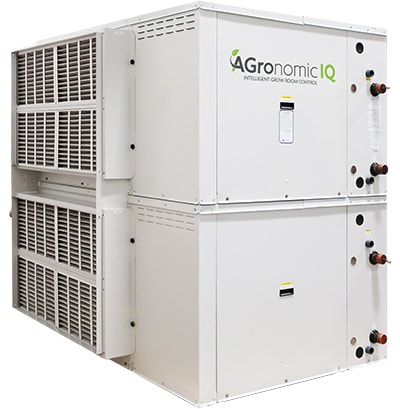 Designed from the ground up to provide the ultimate solution for the vast majority of grow rooms, the Evolution Series answers every one of the most critical grow room requirements.It comes in a wide range of sizes and options to provide the most space efficient, energy efficient and cost-effective solution possible – while delivering the most stable and scalable performance in the industry. There is simply no other system on the market that provides more capacity, value or performance in a smaller footprint!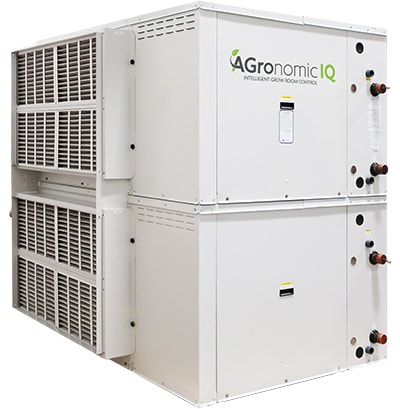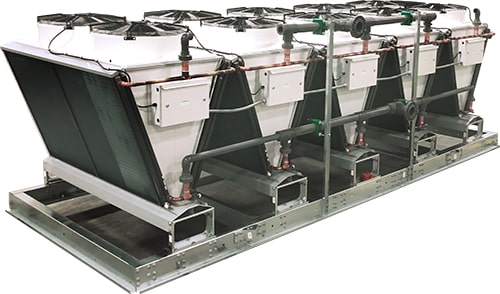 With the safest, most reliable heat rejection system available for grow rooms, Agronomic IQ's proprietary Dry Cooler Technology solves traditional DX heat rejection issues with 85% less refrigerant to provide scalable, redundant, modular performance with built-in pump packages. They're also ultra-quiet and virtually self-cleaning so they're almost maintenance free and provide consistent high capacity heat rejection.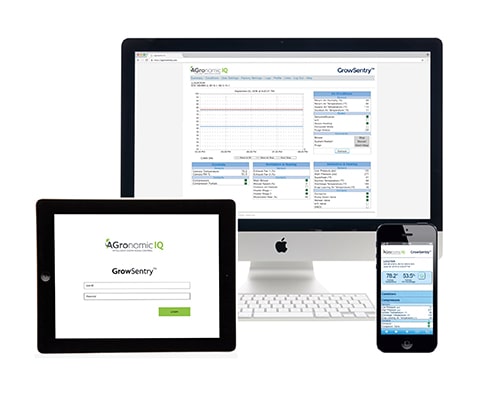 Learn how GrowSentry™ technology provides real peace of mind for growers with internet monitoring and remote control, tracking performance data every 60 seconds, 24 hours a day, 7 days a week. And it's built into every single dehumidifier we make to provide a lifetime of Internet monitoring, remote control and remote data recording – at no cost!
All you have to do is connect it to the Internet with a simple Ethernet cable (Wi-Fi and cellular options are also available). Once connected via a simple ethernet cable, GrowSentry™ connects securely with our remote servers and begins sending performance data.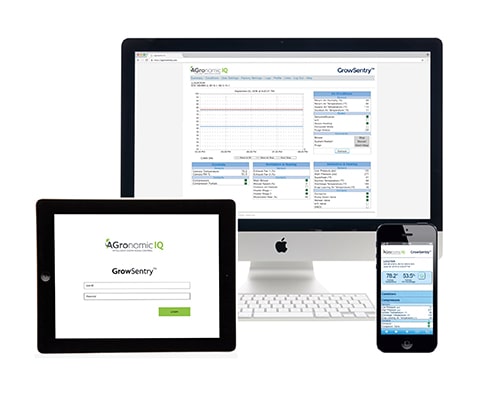 Informative Downloads
Discover the 3 biggest challenges of modern day grow rooms, and the common mistakes that growers make when selecting HVAC solutions.
Learn the top 10 reasons why choosing the right system and HVAC partner is fundamental to successful grow room operations.
Complete the application details on this load selection sheet such as room basics, temperature, lighting, and the active grow area to help determine the right equipment for each room.
With modern-day grow rooms, the new reality is scale, and with more scale, naturally occurring chemicals and other compounds used in cannabis production means more odors. As HVAC systems are not typically designed to eliminate odor, this bonus chapter provides alternatives to activated carbon filtration to help mitigate odors effectively.
Get important news, the latest trends, and best practices to create the optimal grow room temperature and humidity control environment, delivered directly to your inbox.